My mother, my muse
Left: Me bartending for the first time at The Duck up in Harlem last night.
Right: My makeup when I woke up this afternoon after going to bed at 7 a.m. This can't be good for my skin.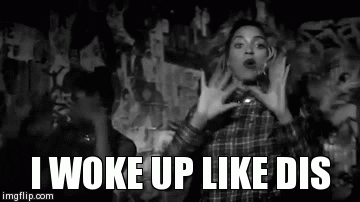 On a cold December afternoon, Billy Eichner is running full speed on 23rd Street in Chelsea, holding a potato aloft.

"Miss! Miss! Miss!" he shouts urgently at a stranger, trailed by a battalion of cameramen from his roving game show "Funny or Die's Billy on the Street," which begins its third season on Fuse on March 12. "For a dollar," he says showing her the spud dressed up like a woman. "What actress is this?"

Stunned, she stands there silently, while his intense eyes burn, inches from hers. She returns the glare, looking nervous. To people across the street, it has the look of a suspenseful moment of great gravity. "Breathe," Mr. Eichner, 35, says with the severity of a seasoned surgeon. "Amber Tamblyn?" she says.

He flashes a look as if he smelled something terrible, then storms away with a look of disgust, yelling volcanically, "Emma Stooooooone."

For the next 10 minutes, Mr. Eichner accosts many pedestrians, pressing them sternly on all matters celebrity. "Will Seth Meyers blow the roof off of 'Late Night'?" "When the movie of 'Annie' comes out with Cameron Diaz, will you leave the country or kill yourself?" There's so much talk of famous people that when Mr. Eichner races right past the actors Amanda Seyfried and Justin Long, it seems as if they are part of the show. (He noticed them, but kept moving). They look just as baffled as everyone else.
I love this man.
Oskar goals.
I want Minerva to experience the grandeur of New York City but she runs away just from the sound of the fridge opening and closing so I don't think it's going to work out.
(Source: featuringod)
The Bystander Effect
Today I had something pretty upsetting happen. In hindsight what I did might have proven to be stupid, if not fatal, but I did it and that's that. I was on the subway headed to an appointment uptown. As usual, I was listening to music and trying to tune out the crazy around me. If you've ever been on a train in NYC you know that most of the time you just keep your eyes down and get on with things. There can be a lot of weirdos on the trains. Now, I was sitting at the very back of the car I was in. All of a sudden every single person on the train stampeded to the back. And I mean everyone. I could not figure out what was going on, only that everyone was panicked and trying to get away from something. I figured somebody had probably thrown up or something gross like that, so I took my earphones out to see what the commotion was all about. As it turned out, two guys, maybe in their twenties, were beating the every loving shit out of some kid. Well, he looked like he was maybe 18 or something. He looked young. I couldn't believe it. I could hear the punches as they came down on this kid. Each one louder than the next and each one making everyone on the train gasp in horror. 

Before I realized what I was doing I stood up and said "isn't anybody going to break this up?" No one responded. I guess this next part might have been pretty dumb but I was on some kind of weird auto-pilot. I pushed through the crowd of people and headed into the fight. I heard someone mutter "she's going the wrong way" as I passed by them. I didn't care. Somebody was hurt. Someone was attacking another human being, beating them senseless. The poor kids face was all bloodied from the attack. He looked like he was scared out of his mind. There were two guys beating him up but one was definitely the ringleader. He was mean and more angry than I have ever seen someone in my life. 

Everything happened very quickly. I started screaming "STOP IT!! STOP IT!!" at the top of my lungs but that didn't work so I basically draped myself on the kid to keep him from getting punched or kicked any more. I just kept yelling "stop it stop it!" as the two other guys tried to come at him again. By some miracle, and I mean MIRACLE, this was all happening as we pulled up to the next train station. When I say it all happened fast I mean FAST. The doors opened and I literally dragged the kid by the arm out of the train and on to the platform. I told him to run for his life and go find a cop. He was crying and said that they guys were still coming after him so I stood on the platform and tried to cause a scene to scare the other two guys into staying on the train. 

The crazy thing is that people walked right by me and didn't say a word. Not a single thing. They didn't try to help the kid even when he was on the platform and trying to get away from the two bad guys. I felt strange, like I had done something wrong. Or like I was bad for causing a scene. I know that sounds weird. The train left the station with the two guys on it, and I stood on the platform in a daze as the next two trains pulled up and then departed. And then suddenly the strangest thing happened. I heard the most beautiful sound echoing around me. It was the sound of an opera. I looked around and there was a normal looking younger guy on the platform who had suddenly burst into song. He had the most incredible voice I had ever heard. I stared at him and listened to his song until the next train rolled in, and then I got on and sat quietly as it drifted along into the tunnel. 

Luckily my appointment uptown was with my therapist! It was really bizarre. I was fine until I got there and then I just started crying and crying and I couldn't stop. I'm still crying now and I don't really know why. I understand now that what I did could have ended badly. I could have been hit, stabbed, shot, or who knows what. I get it. And I that the knowledge or fear of what could happen is what made my fellow passengers freeze. I guess I should have thought it out a little bit more myself but I just did the first thing I could think of to stop it. I have never seen someone so angry before. I've never really even seen a fight like that up close. And not one that was SO aggressive. I truly believe that the one guy would have beaten that kid until he passed out. He was that angry. About what? I have no idea. 

I don't know what the point of all of this is. This blog has just always been my safe place to vent about the things that go on in my life which seem out of my hands or over my head. I am not naive. I know there is cruelty in the world. It is just a terrible thing to witness firsthand. I hope, wherever that boy is, that he is alright. I hope he has some loving family to take care of him tonight and that he stays out of trouble. I hope the guys who beat him up can find a way to let go of that anger but I fear they will not. Most of all I hope wherever you all are that you are safe too, and that someone is looking out for you. 
A New York City story
A friendly PSA from Maddie the Coonhound 🐶👋
(via socialsurvival)
Walking around South Williamsburg